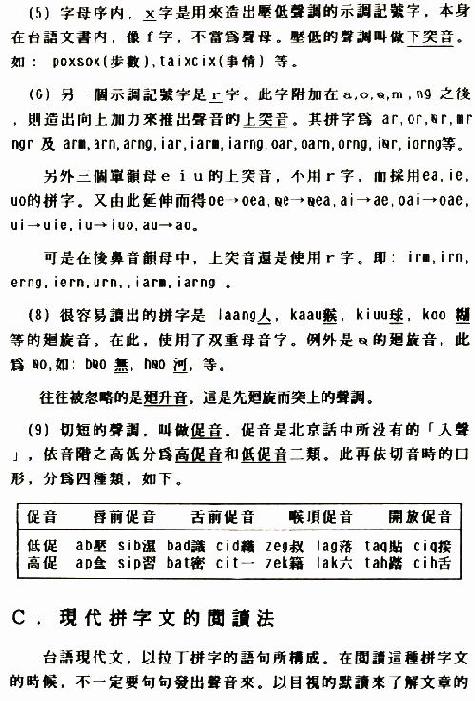 (5) The letter x in the alphabet is a soundless tone-letter to produce a forcibly suppressed sound. This is called as a Pushed-Down tone. Such as: poxsox (steps), taixcix (matter).
(6) In contrary to this sound, a Pushed-Up tone is constructed for a, o, ø, m, and ng by adding the tone letter
r. The products are: ar, or, ør, mr, ngr, and arm, arn, arng, iar, iarm, iarng, oar, oarn, orng, iør, iorng, etc.
The Pushed-Up tones of e, i, and u are not constructed with r. Instead, special spelling of ea, ie, and uo are used. The extension of these usages are: oea, øea, ae, oae, uie, iuo, and ao
for oe, øe, ai, oai, ui, iu, and au,
For all post-nasal spellings, however, r is always used, e.g., irm, irn, erng, iern, urn, iarm, iarng, etc.
(8) Easily readable spellings are such as laang, kaau, kiuu, koo, which are called Bend tones. Double vowels are the characteristics here. Exception is the Bend tone of ø, which is øo as in words: øo, bøo, and høo.
Often neglected tone is the Bend-Up tone, which is a Bend tone first and followed with a Pushed-up tone.
(9) Shortly cut sounds are called Stops. Mandarin does not show this sound clearly. In Taiwanese. there are High-Stops and Low-Stops, as follows:
Stops
example
High-S
Low-S
ap sat zek tah
ab sad zeg taq
C. Reading MLT Sentence
MLT is composed of words with