http://www.edutech.org.tw/publn/MLT-Promotion.htm
Dr.K-H. Liim's Publication and the Promotion of Modern Literal Taiwanese
(林繼雄的著作及MLT推廣
(.(.= Vocal translation in Taiwanese)
---
(1)(.The Beginning, Church Romanized Writing
---
1934( Study of Church Romanization at the Sundayschool of Thaepeng-kerng Church.
(Tainan
Presbyterian
TPK
Church,
Sunday-
School
on
1934


Beginning
of
Taiwanese
Church
Romanized
Writing
---
(2)(.Compilation of Taiwanese Vocabulary in TMSS,the Taiwanese Modern Spelling System

(.1943 Under the inspiration of a Japanese
teacher, four classmates in Tainan 2nd
Middle School began to accumulating
Taiwanese words and assigning their
spellings for translating English
sentences word ny word. A spelling rule
for Taiwanesewords in Roman spelling was
later found and named as the Taiwanese
Modern Spelling System (TMSS).
(.Four students
of this
class
initiated
TMSS
in 1943.
1948~51(.Utilizing the compiled vocabulary, some
European literatures were translated into Taiwanese.
| | |
| --- | --- |
| ( 1950年繼雄 羅馬字作品之一 ) | |
---
(3)(.Interruption of work by the Martial law and the Inhibition Order by the Government on the use of Taiwanese Language.
1951(.K-H Liim was graduated from Natl.
Taiwan University; in December, the
government issued an order to inhibit
any use of Taiwanese in the school.
1952(.The inhibiting order on Taiwanese
language by the government extended to
its general use in life and especially
in publication.
1952~1958(. Liim got a job in the
Taiwan Coal Control Commission and
then in the Provincial Industrial
Research Instutute.
1958~1966 (.Liim was hired by the
Kaohsiung Medical College as an
associate-professor of chemistry. He
was also served as a parf-time
professor in Tunghai University,
Tamkang College, and National Cheng
Kung University.
Chemistry Research Papers and Books by Liim→●

<Publication of Books and University Textbooks>

(1958)基 礎 化 學 論
Fundamental Theory of Chemistry
(1964)量 子 化 學 導 論
Introduction to Quantum Chemistry
(1960~61)近世有機化學 (上~下)
Modern Organic Chemistry I~II
1981)化學品電腦資訊明碼SEFLIN, Computerized Chemical Formula

(1983)EDUTECH 電腦輔助教學法 EDUTECH Computer Assisted Instruction
---
1952~1986(.K-H Liim temporally stopped
his study on linguistics. He changed his
name to C-H Lin according to the Mandarin
pronunciation of Chi-Hsiung Lin. He
changed his way to the research and
publication of theoretical chemistry and
spectroscopy.
---
1966~1968(. Liim studied Physical
Organic Chemistry, Behavioral Science,
Artificial Intelligence, and Information
Science at Case-Western Reserve
niversity,Cleveland, Ohio and got a
PhD degree.
1968(. He returned home and became a
professor in National Cheng Kung
University.
---
1970~1987( Liim Studied Computer-based
Modern Literal Taiwanese (MLT) with an
IBM 1130 Computer in the university. He
also privately edited manuscripts of
Taiwanese dictionaries and books at home
with an Apple-II Desk Computer.
(4)(. Before the Lifting of the Martial Law
1987 (.Liim organized the Literal Taiwanese Research
Group at the TPK Church (4/3). This was the first
in the history of Taiwan
1987 (.The martial law was lifted.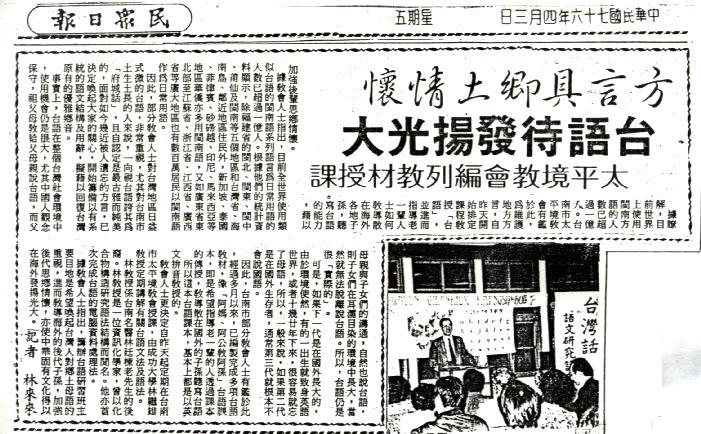 ---
(1987)台語現代文: 馬太馬可福音傳 Books byMattew and of Mark, in theNew Testament
(1986)台灣話成人課本
Taiwanese Textbook for Adults
(1986)台灣話的新書寫法
New Writing Method for Taiwanese Sentence
(1987)台 灣 話 兒 童 讀 本
Taiwanese Textbook for Children
(1987)課本一「句形文法語法」
Sentence, Grammer, and Semantics of Taiwanese
(1987)課本二「小氣球的夢」
The Dream of the Little Balloon
(1987)課本三「三字經」
Three-Word Sayings
(1988)課本四「成人的台灣話本」
Taiwanese :Language for Adults
---
---
( 5)(..Promotion of MLT in Taiwan

1988 (. K.H.Liim established the Taiwanese Language
Study Group in National Cheng Kung University. He
also opened a class of Taiwanese conversation for
students from Southern Asia.
1987~1990 (. He organized study groups of Written
Taiwanese Language in churches and colleges.
---
1990 ( A formal class of Modern Literal Taiwanese
in Medical College of Cheng Kung University was
permitted by the Ministery of Education to open by
Liim. This was the first case in history to be permitted
by the governmnet. (2/19)
---
(1988)主 日 學 聖 經 故 事 (1)(2)
Bible Stories as Childrens' Songs (1) & (2)
(1988)台 灣 話 之 基 礎
Fundamental Taiwanese
(1988)古文台語解讀:「大 學」
"Taixhak", the Higher Learning
(1988)台語音教材:「詩 篇」
"Psalm" for Teaching Taiwanese Pronunciation
(1988)成年人的台灣話現代文書法
Modern Literal Taiwanese for Nowerday Youth
(1988)台 灣 現 代 語 音 辭 典
Taiwanese Dictionary of Words with Modern Spelling
---

>
(6)(..Promotion of MLT and Taiwanese Ideology in the United States.

1992(. Liim was invited to offer speeches
in 16 Assemblies of oversea Taiwanese
in the United States.
Topics of Speaches
1.國內的母語推動成果
2.台灣語文教育之努力方針
3.現代文書法之介紹
4.海外台灣人子女之台語學習
5.台語之文書法與新文藝
6.咱的母語
7.台語文字之走向
8.Unified Spelling of Taiwanese Language
9.台灣話的電腦化及相關科技問題
10.台語之美與電腦化
11.現代化的台語文及古典作品之翻寫
12.台語現代文書法與漢字文發音法
13.國內的雙語教育與台語資訊化
14.台語文之過去與將來
(1993)台 語 電 腦 打 字 法
Taiwanese Text Preparation by Computer
(1992)台 灣 母 語 文 進 階
Stepwise Text of Taiwanese Literacy
(1990)大學適用: 台 語 現 代 文
Modern Literal Taiwanese, for University &College
(1990)資訊時代的台灣話語文
Taiwanese Liter ature in the Information Age.
(1990)台灣話: 現代文書法 讀本
Textbook of Modern Literal Taiwanese
(1990)中小學幼教用: 台語教學法
Methods of Teaching Taiwanese to Youngsters
---
(7)(.MLT Classes for Teachers in
Elementary and Middle Schools.
1991~1993( Liim opened Taiwanese Classes
in City and District of Tainan and in City
of Taichung. MLT Course was opened in
Taiwan Cultural University, and a class of
Taiwanese conversation was opened at
Taichung City Library.
---
---
(8)(.Establishment of the EDUTECH
Foundation and a personal Internet Web for the Promotion of MLT
1994(. K-H Liim retired from the National
Cheng Kung University.
1995( Liim established the EDUTECH Founda-
tion in Tainan, and began the teaching and
publication on Taiwanese language.
1997( Liim successfully set up the "21st
Century Taiwanese Internet Web", http://
www.edutech.org.tw
---
---
(1999)舊約聖經 出埃及記 讀本
Taiwanese Reader: Old Testament -- Exodus
(1998)舊約聖經 創世記 讀本
Taiwanese Reader: Old Testament -- Genesis
(1997)台語辭與台語文的讀寫練習
Practice on Reading & Writing Taiwanese Words
(1997)由漢字注音到台語拼字文
Phonemics of Han Characters to Spelling Sentence
(1996)台語拼字 與 音漢混合文體
Taiwanese Modern Spelling and Mixed Style Writing
(1996)醫 務 台 文 讀 本
Medicinal Taiwanese Textbook
(1995)台 文 英 文 打 字 法
Taiwanese-English Typewriting Method
(1995)育 德 通 用 台 音 辭 典
EDUTECH Dictionary of Taiwanese Pronunciation
(1995)大 學 台 文 課 本
University Textbook of Taiwanese Documents
(1994)簡 明 台 語 漢 字 字 典
Simplified Taiwanese Dictionary of Han Characters
---
(9)(..Research and Publication on the Computerized Linguistics of MLT and the Construction of Audio Textbooks of Taiwanese Language.
2000(.Liim presented a
Special Speech on MLT
at the XIIIth Annual
Meeting of Computa-
tional Linguistics
on Speech Sygnals.
..
(2005)再訂版: 醫務台文有聲讀本
Audio Medicinal Taiwanese Textbook and MLT Related Articles
(2007)有聲讀本:台羅拼音口語文書與傳統俗語和成語
Audio Book on Colloqueal Taiwanese with Traditional Idioms
Maxims
---
<Internet Audio-Vocal Article>
in: http://www.edutech.org.tw
(2007)(電腦語音合成技術與台灣各族群鄉語之推廣
保存The Technique of Computer Voice Constructioin and
Preservative Promotion of Different Dialects in Taiwan
(台語現代文第一步The First-Step Study of MLT
(台羅拼音到台羅現代文From Romanization to MLT
( 基準台語語辭辭典Dictionary of Taiwanese Words
(2008) (Writing Taiwanese with Least Letters
(Taiwanese Alphabet & the Song of Alphabet
(Tone Practice of Mono-Syllable Spelling
(Basic Sandhi Rule & Short Sentences(1990)
(Literal Spelling and deviated voice with Underline
(Introductory Picture Cards (1~6)
Elementary English-Taiwanese Vocabulary
((1) animal, plant, fruit, insect
((2) bird, fish, bevelage
((3) body, clothes, stationary, musical instruments
((4).sport, occupation, family
Old Testament: ( King's Proverbs
( Genesis: Chapter.1)
( Psalm: from T.Barclay's Bible Recitals
---